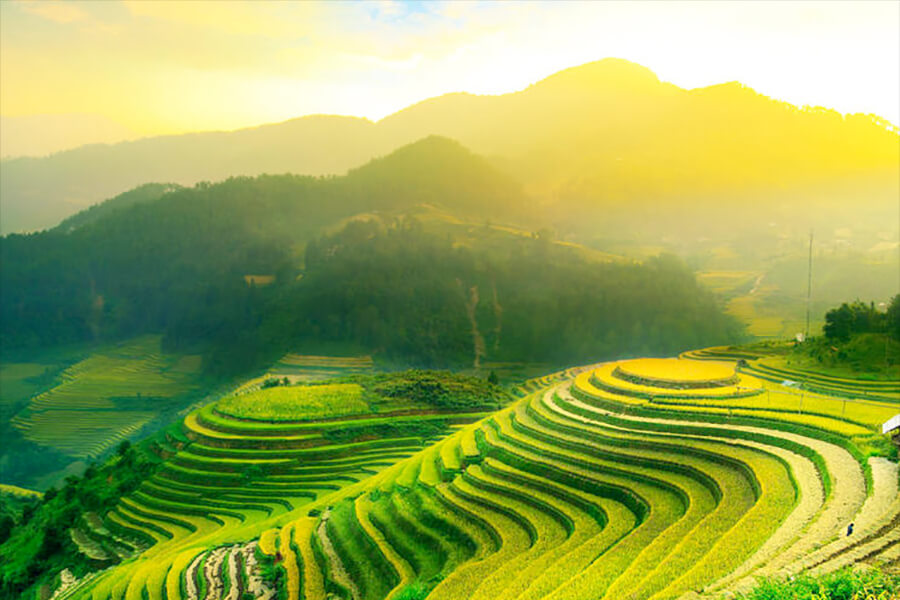 Private and Group Yoga and Fitness Classes in Los Altos By Faranak
---
Services
---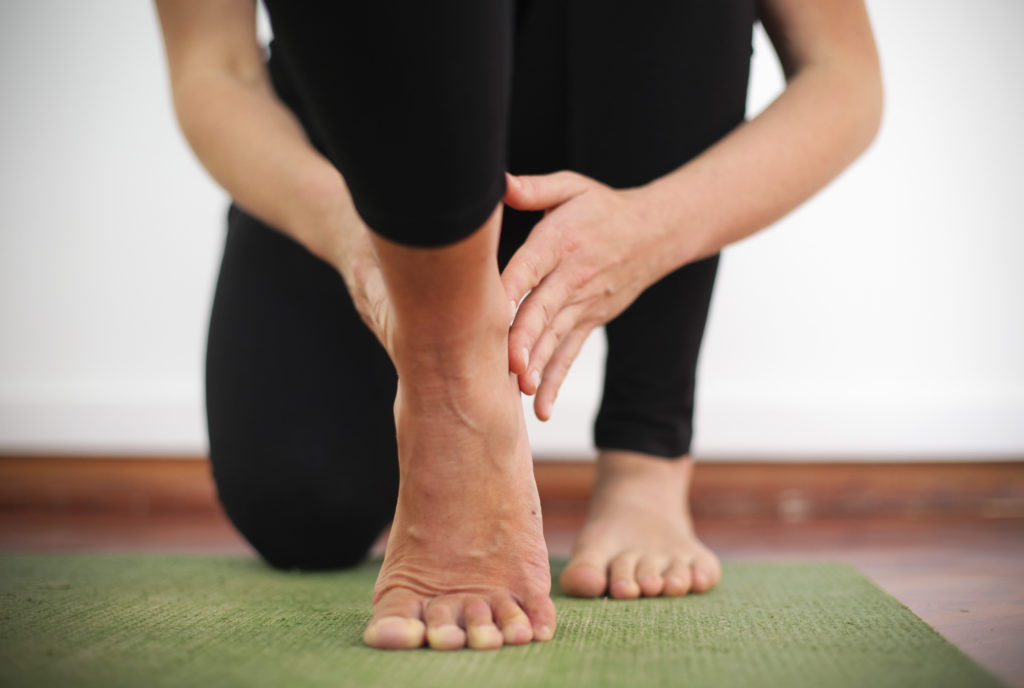 Whether new to the yoga game, needing rehabilitation from an injury, or just wanting to take your practice to the next level, one on one instruction could help you reach your goals. Beginners can feel overwhelmed in typical public class settings, It can seem difficult to keep up and personal flexibility might require a little work. For beginners, taking private lessons to get the basics right is a great strategy. Even if you have been practicing yoga for a long time, and you just want to take your practice to the next level, private classes are for you. As a certified personal trainer, Faranak can also design a customized strength and flexibility program based on your needs and requirements.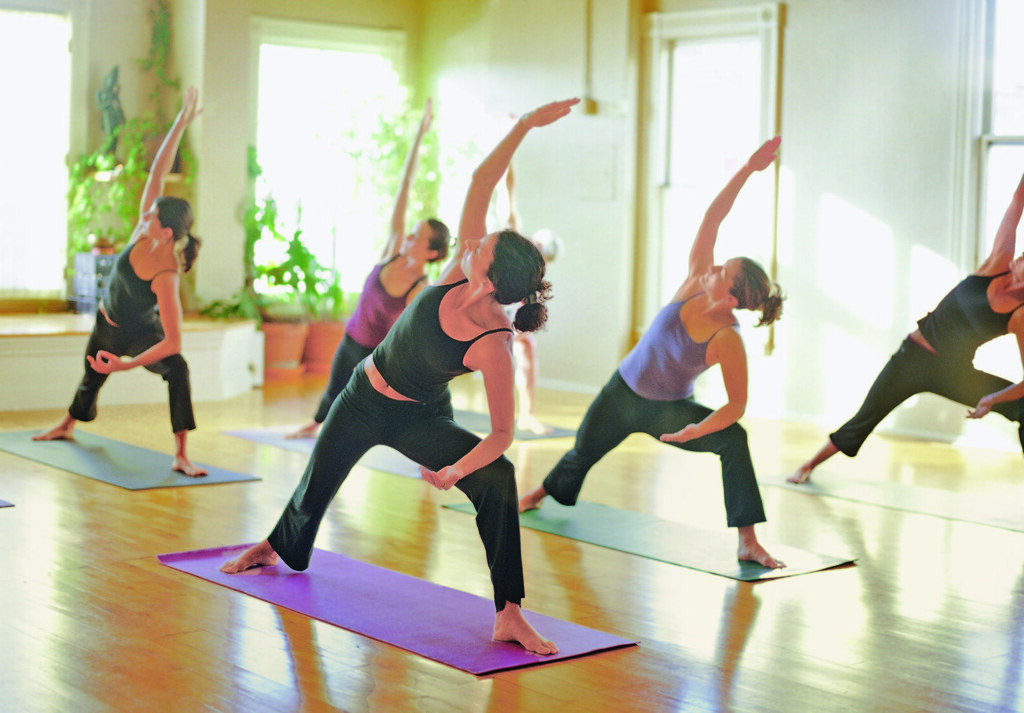 Now offering hybrid classes, in person and virtual. All classes include poses, breath work, mediation and guided relaxation. 3-6 students per class. The classes are intentionally kept small, so each student can receive special attention.
Ignite – M & F- 7:30-8:30 AM, Wed. 8:45-9:45 AM This ever changing, Personal Training class format will challenge your total body to new fitness levels while also stretching and improving flexibility. Strengthen your major muscle groups with body weight exercises, resistance bands, and hand weights to target the major muscle groups and elevate not only your heart rate but also your spirit.
Gentle Yoga – Tues 9-10 AM & Thurs 10:00 – 11:00 AM Integrative mind body practice using gentle somatic movements.
Easy Flow – Sun 9:00-10:00 AM Invigorating series of poses designed to provide functional strength and balance.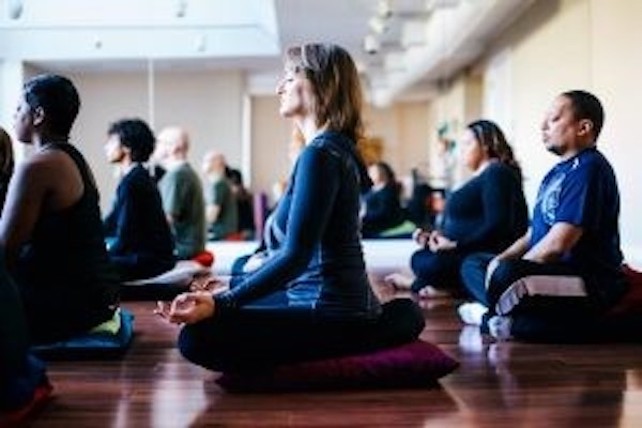 Corporate / office, or school (PreK-12) yoga and meditation classes have the ability to help employees and students strengthen their body and calm their mind. Yoga increases mental clarity, which aids concentration and memory, and steadies the emotions.
---
We are experts at planning and managing wellness programs, whether you are a small or large company we can find the perfect solution for you. We've taught yoga at conferences, workshops, overnight retreats, as well as large corporations like Google, HP, Tibco, and WalkMe.
Contact us now for a free consultation
---
There is a growing need for improved mental, and physical health, disease prevention, and whole-person care. We believe that integrative, mind-body approaches can be essential tools in supporting everyone's well-being. By educating individuals you can empower them, and now more than ever, people need a sense of empowerment over their own mental and physical health. We vet the best experts in their fields who understand the importance of whole-person care. We provide education, from a trustworthy network of holistic health practitioners and we share self-care management tools to empower you to connect deeply to your body and mind using integrative medicine.
We're currently offering complementary, informative, and experiential workshops to support your physical and mental well-being.
Recordings
Listen to your Inner child and stop negative patterns June, 12, 2021
Healing chronic stress through Yoga July 10, 2021
Current and Past Workshops
---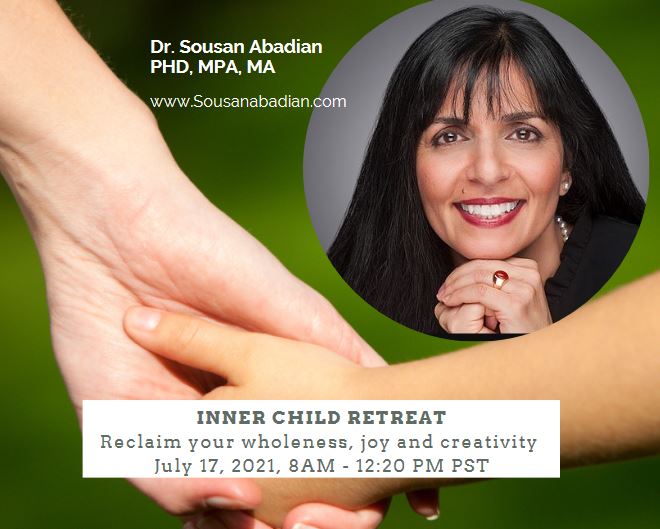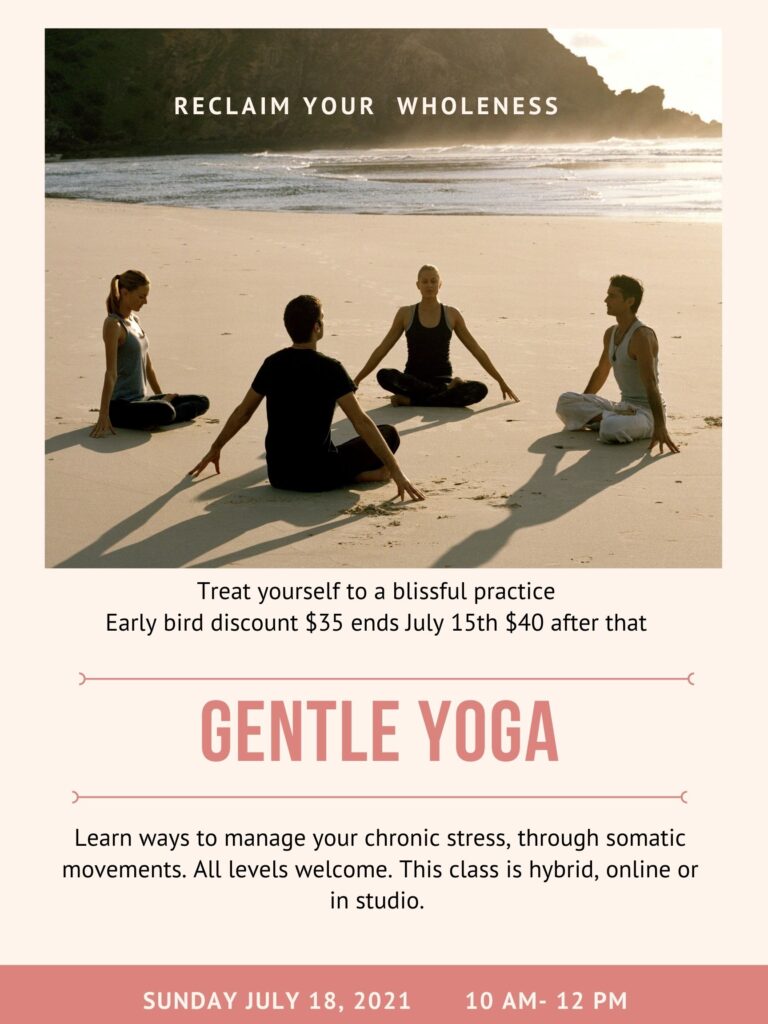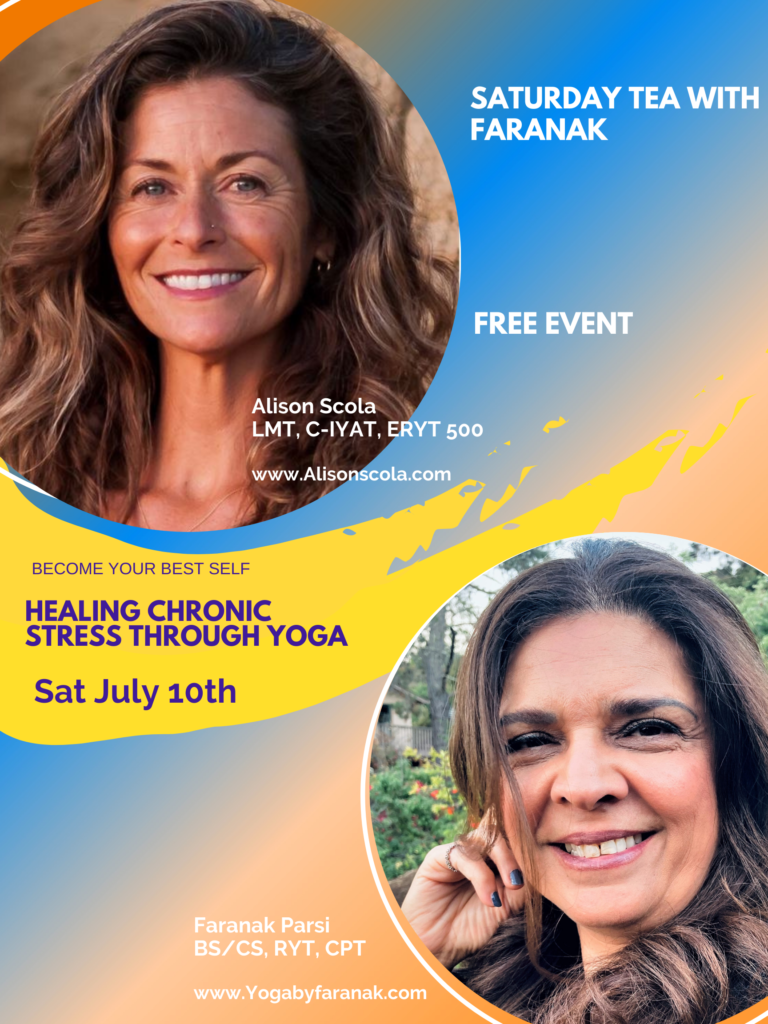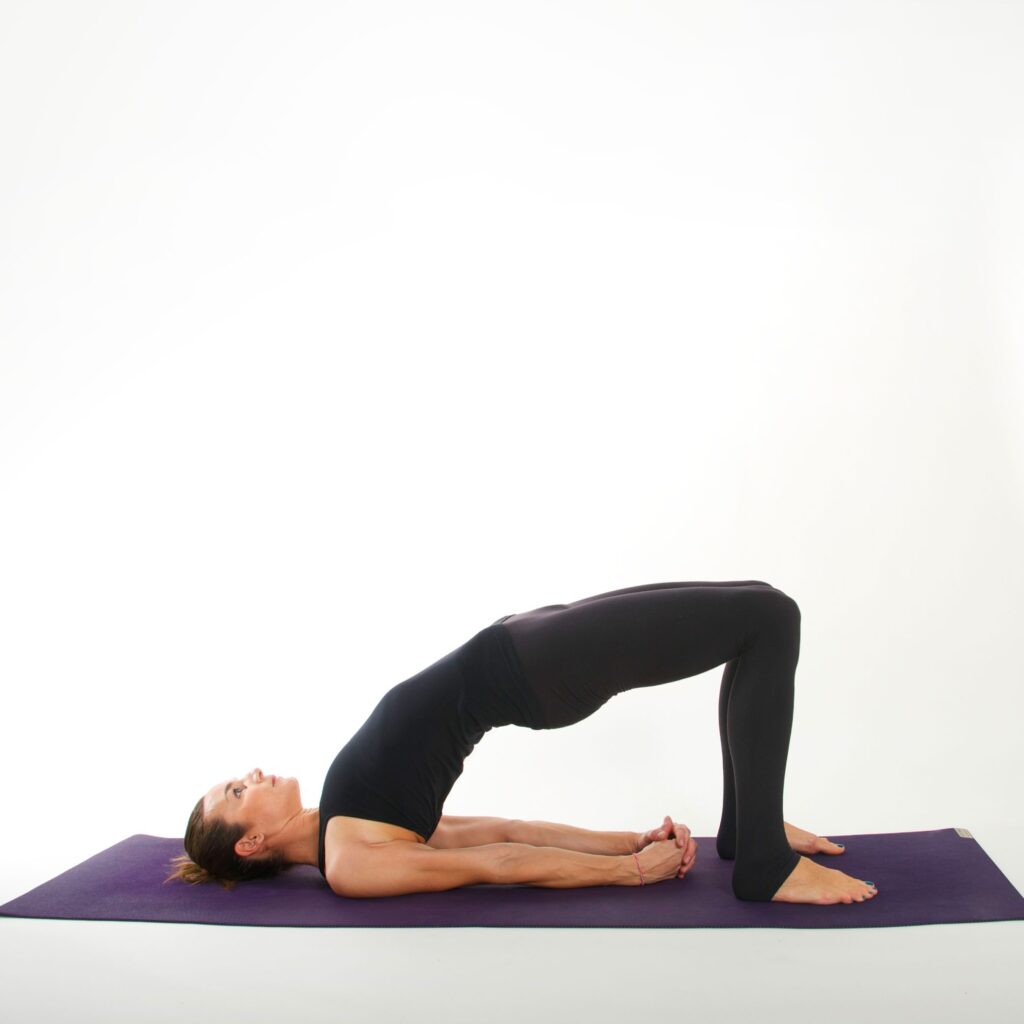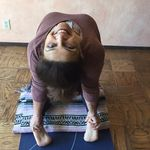 Yoga for Lower Back
Yoga is a powerful tool for relieving back pain as well as teaching us how to mobilize, align and strengthen this area. This class is designed for all students who need careful attention given to their lower back, hips and pelvis. Faranak will address how to adapt certain yoga poses for a wide variety of lower back conditions and give a series of therapeutic yoga poses for a variety of lower back conditions.
Couple's Workshop
This is the time for rejuvenation of our hearts and minds as a couple. Use this time together as an opportunity to strengthen your bond. No experience is required, this 1.5 hr. workshop is designed with some fun easy movements to bring couples closer, and to renew their appreciation for each other.
Yoga for Neck, Shoulders and Upper Back
Do you suffer from stress and chronic tension in your neck, shoulders and upper back? Do you literally have a big pain in the neck? Does it feel like the weight of the world is on your shoulders? This is an ideal workshop to relieve tension, and tightness in your neck, shoulders and upper back, and you will also understand some of the underlying causes, and increase your awareness about this entire region.
Yoga therapy movements integrate the whole body whilst focusing on the problem areas. I will walk you through Yoga movements and breath awareness. All movements and techniques are designed to help you increase your awareness about this area of the body so you can manage the pain and to promote healthier upper back, neck and shoulders.
The goal is to strengthen weak muscles, release chronic contractions, stabilize joints, increase mobility and flexibility, and improve your posture.
---
About Yoga and Fitness Instructor Faranak
---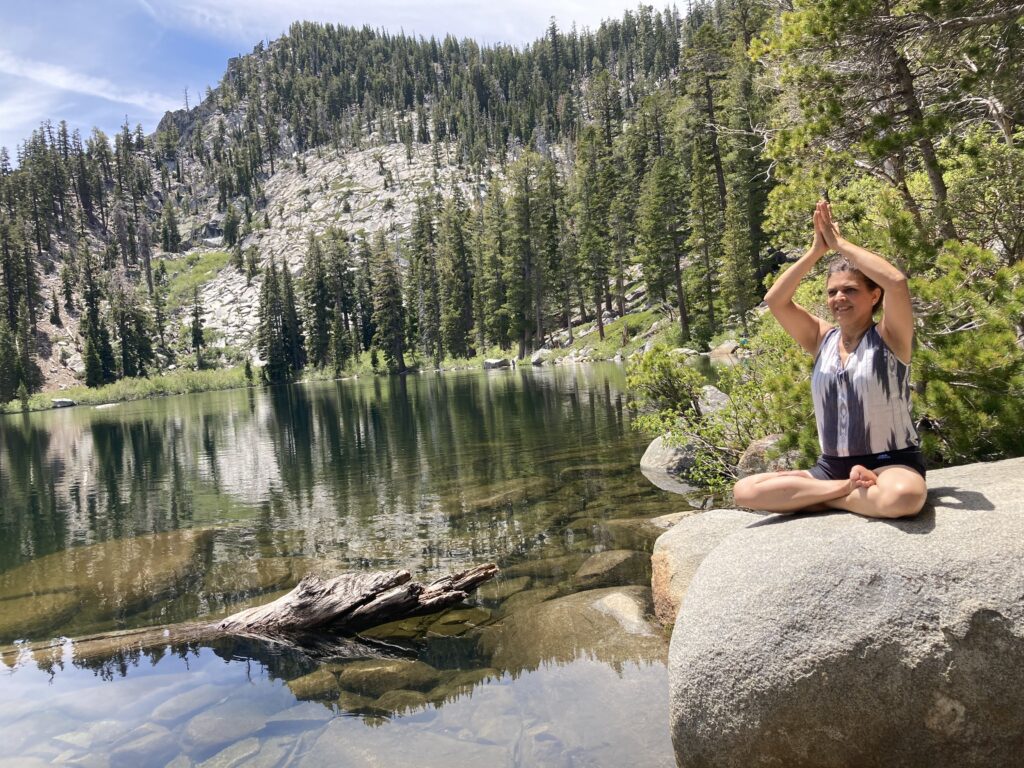 Thank you for your interest in enhancing your Yoga practice and improving your wellness. My name is Faranak Parsi (RYT, CPT, AFFA, Reiki II, Mat Pilates, BS/CS), and I specialize in bringing relief for chronic hip, knee, shoulder, and neck joints.
I came to yoga to find work life balance and I realized what I've been missing all my life. Yoga is a mind body practice that leaves you feeling completely serene and energized at the same time. I believe Yoga heals people at so many levels. I have personally witnessed many different transformations through Yoga. I want to help people who are working in stressful jobs to find balance in their lives… I'm committed to helping people finding work-life balance. Your wellness will not only impact you, it will also impact your families and how you view life.
In the face of yoga's growing commercialism, my mission is to preserve the purity of the discipline, and to teach the true essence of yoga to my students. In every class, I teach awareness, form, fun, alignment and mindfulness. My style of teaching is very personable, and I like to customize the practice around each student's individual needs.
I have 19 years of experience teaching private, and group classes at yoga studios, fitness clubs, spas, companies, non-profits, virtual, yoga retreats, and guest speaker at conferences. My specialty is full joint mobility, and functional strength. if you want to learn yoga, and invite a bit more work life balance in your life, I would love to be your coach and mentor in this awesome journey.
I teach traditional Hatha yoga, inspired by Iyengar Yoga, and Yoga Therapy practices. I believe in using traditional Asana (physical poses), Pranayama (breathing exercises), and Theraputic Chakra (energy centers in the body) practices to transform people from inside out. I specialize in chronic hip, knee, shoulder, and general joint pain. My sessions are usually 1:1, or small groups of 3-6, the sessions are totally customized to client's needs. I can travel to your home or we can meet at my yoga studio in Los Altos. During each session, I use therapeutic Asanas for targeted joints, breathing, mindfulness, and meditation to create balance in key energy centers in the body.
ERYT500 – Experienced Registered Yoga Teacher with 500 Hr. of teacher training
CPT – Certified Personal Trainer from National Academy of Sport Medicine (NASM)
Ayurveda for Yoga Professionals – Course completion
Certified Mat Pilates Instructor
A humble heart
First and second degree Reiki – Certified Reiki Practitioner
AFFA – Certified Group Exercise Instructor
Deep desire to help people
Bachelor's of Computer Science and Math – San Jose State University
---
Testimonials
---
I am very grateful to have known Faranak, she's an amazing yoga teacher who gets it. Faranak is a very knowledgeable instructor, and she's able to explain the effect of each Yoga pose on the related body parts. I was suffering from a chronic hip pain, and since taking private and semi-private classes with Faranak, she has been able to help me overcome this weakness. Her guided meditation is very effective and powerful. Being attuned, her calm voice and clear directions, carry your soul to the other realm. It is an amazing experience every time. I am blessed and thankful for the opportunity to practice Yoga with Faranak.
Armita D.
I have been going to Faranak's yoga classes for several years. I really enjoy her classes because they are both challenging and relaxing. While demonstrating how to properly do the poses, Faranak explains how each pose helps the mind and body. She is also very accommodating to our requests for focusing on certain areas of the body that we want to work on. Faranak is also kind, caring and funny! I definitely feel more energized after attending her classes.
Junko F.
I have been going to Faranak's classes for the past 8 years. I started taking some private lessons from her after having surgery for kidney stones. Inversions and other poses helped to address this medical problem without needing to take medications for the rest of my life. I like how Faranak regularly shares her knowledge of anatomy as she explains the physiological benefits of each pose and as she adapts the class to requests from her students. I also appreciate how Faranak is creative with her sequences while at the same time follows the practices of traditional Hatha Yoga, creating classes that are both energetic and calming at the same time. An added bonus is her good sense of humor, she always brings a sense of lightness to the practice. I always leave the class feeling great both mentally and physically refreshed.
Kathy F.
Faranak's classes are perfectly paced, challenging in all the right ways and intuitive. Her experience and love for Yoga shines through in her practice, and she makes everyone feel welcome and comfortable. I look forward to every class.
T.P. from WalkMe Software Company
I have truly enjoyed my experience of practicing yoga from Faranak. Her sharp focus on the correct posturing has allowed my body to really adjust to the essence of yoga practiced and begin to thrive. I have found a new strength, and fitness that I didn't know was possible. She is a gift as a teacher and I am grateful to be able to learn and practice with her.
D.B.
My yoga classes with Faranak are super effective. I am getting stronger and stretching out stubborn areas. Faranak is responsive and gives me tailored adjustments when I have physical limitations. She is always professional, kind and through with her classes. I have taken different classes with her and have benefited from each of the styles. Her sense of humor is lovely and makes me chuckle for the rest of the day. Highly recommend her.
Delbar
I started gentle yoga with Faranak because of right hip pain and Couldn't walk without having pain, after 2 weeks I feel much better and more flexible. I do recommend gentle yoga for beginners and people with injuries to get back to normal.
Fay N. Dec. 2021
---
Rates
---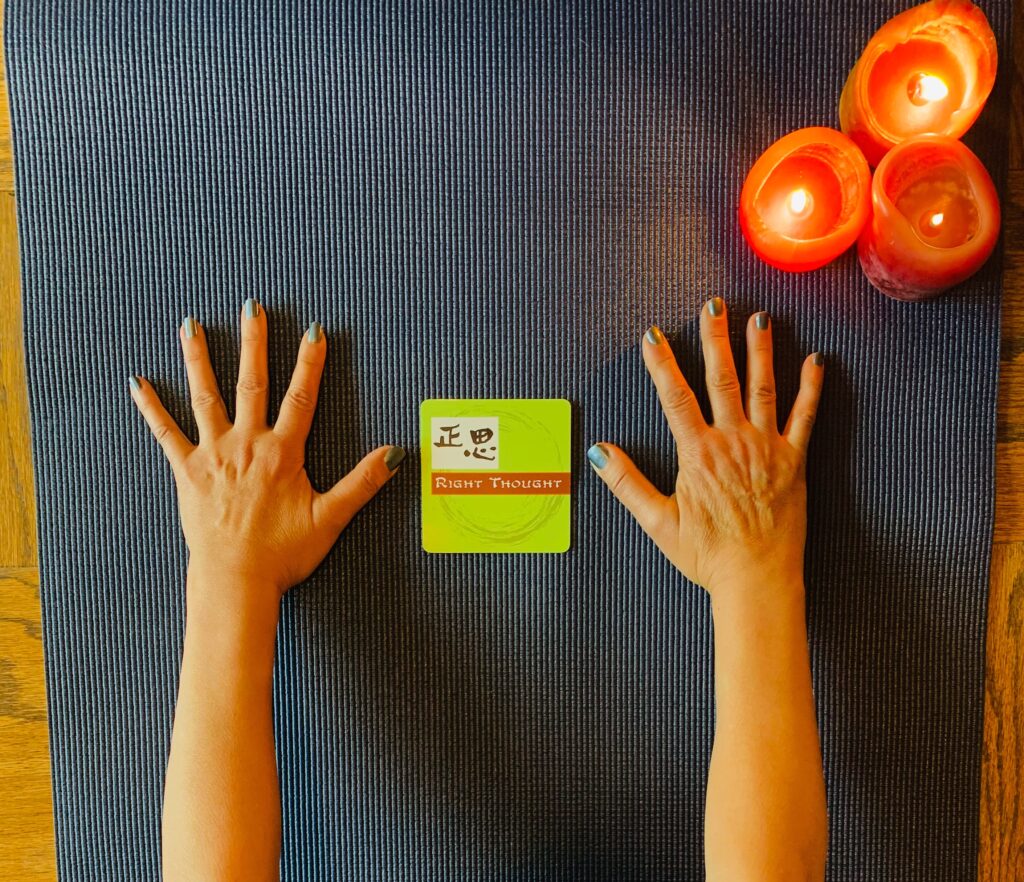 ---
1 hr Group Classes in Los Altos
---
| Group Class | Rates |
| --- | --- |
| Drop-in | $25 |
| 5 class package* | $100 |
All class packages must be used within 6 months. Group classes consist of 3 or more students. Classes are intentionally kept small so each student can receive special attention and detailed instructions
---
60 Min Private or Semi-Private Packages
---
| Private Class | Rates |
| --- | --- |
| Single class | $75 |
| 5 class package | $350 |
---
Corporate Yoga Rates/Cost
---
| Rates | |
| --- | --- |
| | contact us for a free quote |
Increase productivity and employee morale by offering consistent classes 2-3 times a week
---
Office Yoga Class Funding Options
---
100% employee or student funded where the cost is split between all participants giving
them a sense of commitment
100% employer/school funded to promote health and well being of the employees
50%-50% shared cost between the employers/schools and the students
---
Get in Touch!
---
Contact Faranak now, fill out the form below and expect a call within 24 hrs.